We Value Digital Inclusion

At Vantage West, we want to ensure all our members and those visiting our website have equal access to the things they need on our site. Consistent with the Web Content Accessibility Guidelines 2.0, we have enhanced our website with the new AudioEye technology to make this more accessible for individuals with disabilities and user-friendly for everyone.
Free Assistive Tools for Everyone
In partnership with AudioEye, we are proud to offer free web enhancement tools that let you customize your website experience with us. These provide the ability to increase text size, read text to you, and also help those who may have cognitive or physical disabilities to access our website.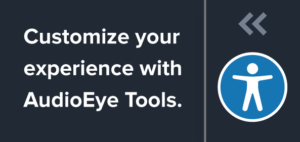 The following tools are made available from the Accessibility Icon Button, the AudioEye Ally+ Toolbar, in the bottom right-hand corner of this website:
The AudioEye Player

This tool mirrors the features and functions of traditional screen reader software, allowing the user to engage with the web environment by listening to content instead of reading. Users may control the user experience using the keyboard or mouse.

 

The AudioEye Reader

This tool allows users to enlarge the viewport, change color contrast schemes, increase font sizes, and control the size of the mouse pointer. The Reader reduces site clutter and distracting content, while simplifying and normalizing the user interface.  When paired with the Player, the Reader can highlight text as it is being read aloud.

Site Menu

Simplifies and optimizes the user experience for keyboard users and individuals with cognitive disabilities.

Page Elements Menu

Provides keyboard users and screen reader users with options to quickly navigate keyboard focus to different areas of the webpage.

AudioEye Help Desk

This tool is used for reporting accessibility-related issues that are processed by AudioEye accessibility subject matter experts.
These tools are designed to help our members and other site visitors, but in particular, aging populations and individuals who have vision, hearing, motor and intellectual (cognitive) disabilities; those who are color blind, dyslexic, are learning to read, learning a second language, or may prefer listening instead of reading.
Our Commitment
We seek to enhance the user experience for all people with diverse abilities by providing the type of high-quality user experience everyone deserves. Our goal is not only one of inclusion but to also provide a superior user experience for anyone accessing the Vantage West website.